Where Stars & Cars Collide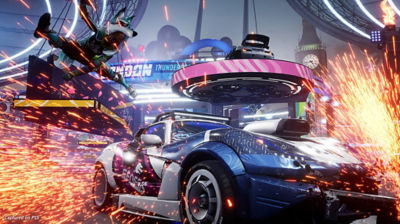 Dominate the glittering global phenomenon of Destruction AllStars – the spectacular prime-time sport for dangerous drivers! Master the art of intense vehicle-based combat through timing, tactics and skills to cause colossal amounts of damage, destruction and devastation in vibrant arenas across the globe. Pile-on the destruction from behind the wheel or leap into the arena with a breathtaking reel of parkour action by dodging attacks, taking over vehicles or using abilities to disrupt the onslaught of incoming vehicles. Cause enough mayhem to power up your AllStars game-changing hero vehicle fuelled with special abilities. A roster of 16 blockbuster Destruction AllStars are revved up and ready to compete in the name of entertainment and demolition. So, strap in for intense, explosive and unpredictable levels of free-flowing action and fight to be crowned the Global Destruction Federation Champion. It's time to run, ram and slam. See you in the arena.
Become a Destruction AllStar
Heroes… icons… global sensations – Sixteen fearless, charismatic Destruction AllStars make up the roster of international competitors vying for the Global Destruction Federation Championship. Utilize each AllStar's abilities to tailor your tactics and play style – exploit their agility, speed or strength to wreck and evade rivals with powerful skills and parkour, switch between vehicles or leap onto speeding cars in heart-stopping takeover attempts.
Get Behind The Wheel
A number of basic vehicles will be scattered throughout each arena at the start of every match, but each AllStar also has a personal signature set of wheels that can turn the tide of any battle. Cause enough mayhem to power up your hero vehicle – each one is fuelled with special abilities to get fans off their seats.
Master The Mayhem
The Destruction AllStar roster is packed with fearless daredevils who fought to get to the pinnacle of their sport through masterful skills, precise timing and cunning tactics. Each competition features specific objectives and targets you need to hit as you direct and tailor the force, impact, speed and power of your destruction.